Published on: September 19, 2023 | Written by: Beatriz Faye G. Carreon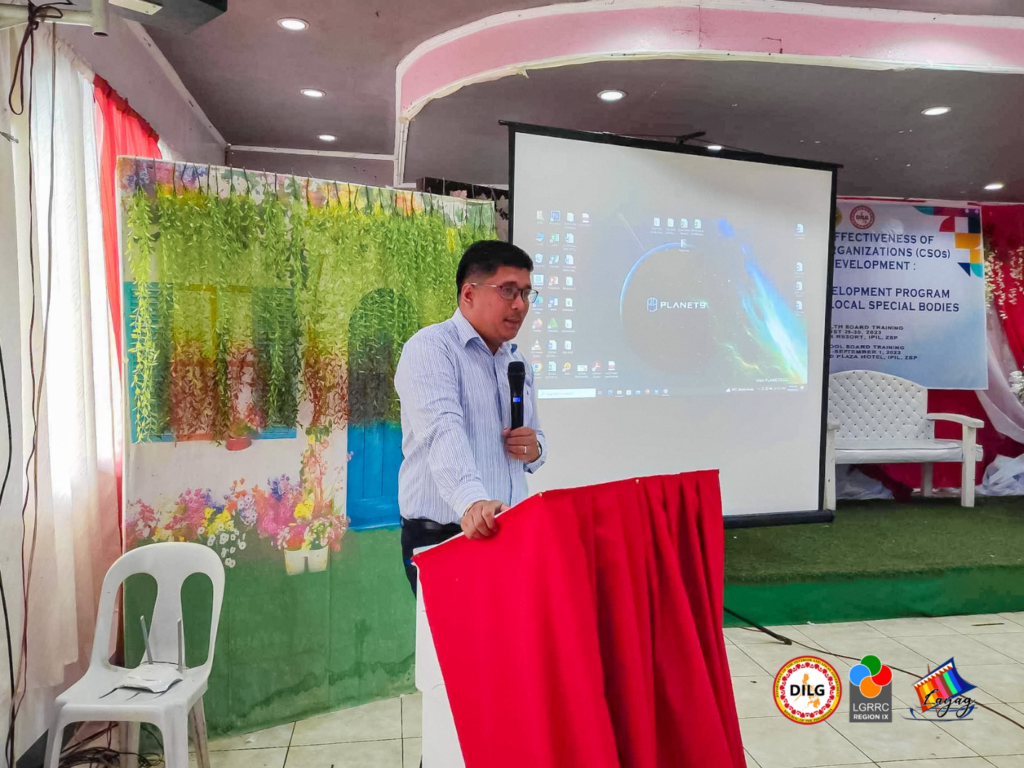 Ipil, Zamboanga Sibugay – With a dedicated focus on strengthening community engagement and promoting efficient local governance, the Department of the Interior and Local Government (DILG) IX led a Capacity Development for Civil Society Organizations (CSOs) in the Local Special Bodies (LSBs) of Zamboanga Sibugay last August 29 – September 01, 2023, held at Roderic's Resort, Ipil, Zamboanga Sibugay.
The careful planning of this four-day initiative aimed to enhance the capabilities of CSOs and individuals serving on the Local Special Bodies (LSB) within Zamboanga Sibugay. DILG IX acknowledged the crucial functions these entities fulfill in local development and governance, marking this undertaking as a significant stride toward cultivating a more empowered, well-informed, and engaged community.
The program began with a motivating introductory speech given by Mario A. Baterna, the Provincial Director of DILG Zamboanga Sibugay. In his address, he extended a warm welcome to all the participants and conveyed his appreciation for their attendance at this vital event. PD Baterna underscored the pivotal role that CSOs and LSBs play in spearheading constructive transformations within their individual communities.
The capacity-building initiative included a wide spectrum of subjects and activities strategically crafted to improve participants' knowledge, skills, and their capacity to collaborate effectively. The program featured a series of workshops, lectures, and interactive sessions, addressing vital areas such as community involvement, project supervision, advocacy for policies, and the efficient utilization of available resources.
DILG IX continues to demonstrate its unwavering dedication to aiding CSOs and LSBs in their quest to foster improved and livelier local communities. This capacity development initiative stands as a clear affirmation of DILG IX's commitment to empowering grassroots entities and the individuals leading the charge in local development endeavors.
The anticipated outcomes of this program are poised to have a lasting impact. Equipped with improved skills and a revitalized sense of commitment, CSOs and LSB members hailing from Zamboanga Sibugay Province are now well-prepared to spearhead local development efforts, paving the way for ongoing community growth and prosperity.