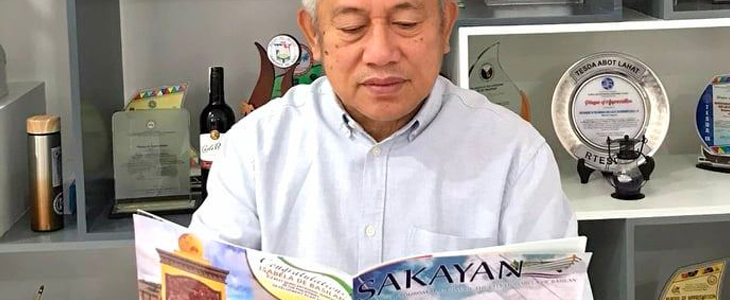 HAPIsabela!
Starting his day with the Sakayan Tourism Magazine – here is Department of the Interior and Local Government – Zamboanga Peninsula (DILG – IX) Regional Director Paisal O. Abutazil, CESO III.
We would like to extend our thanks and gratitude for the continued support extended to the Local Government Unit of Isabela de Basilan and the Office of the Isabela City Tourism. One of DILG-IX's pilot projects is the Layag Discussion Series which featured Isabela City Mayor Sitti Djalia A. Turabin Hataman and City Tourism Officer Claudio M. Ramos II to share best practices of the Happy City of Isabela de Basilan.
A HAPIsabela Mabuhay DILG RD Abutazil and the whole DILG IX Team!
Do you want to read the Sakayan Magazine? Check this link: https://issuu.com/isabelacitytourismoffice/docs/pdffinal
SAKAYAN TOURISM MAGAZINE (Volume 2)
About the Issue:
Though made somber by a world reeling from a pandemic, the City of Isabela de Basilan welcomed the Tagima Quincentennial Historical Marker with a reference for its past and marked its 20th year as a city with a sense of its future – a future that realizes a happy and dignified life for all Isabeleños. It is in the spirit of unyielding faith in the redeeming and reassuring nature of time that we offer the sights and the stories of the 2021 edition of SAKAYAN.
About the Cover:
Master photographer Aldous Cariño draws the beholder into this seemingly moving, breathing frame of Isabeleño fisherfolk readying their Sakayan for another day of work and bounty, another day of hope and resiliency come calm or fury in the city borne of the sea – Isabela de Basilan.
#HAPIsabela
#IsabelaCityTourism #BasilanRedefined
#IsabelaDeBasilan #TatakIsabelaDeBasilan
#SakayanMagazine #OnceAgainZamPen