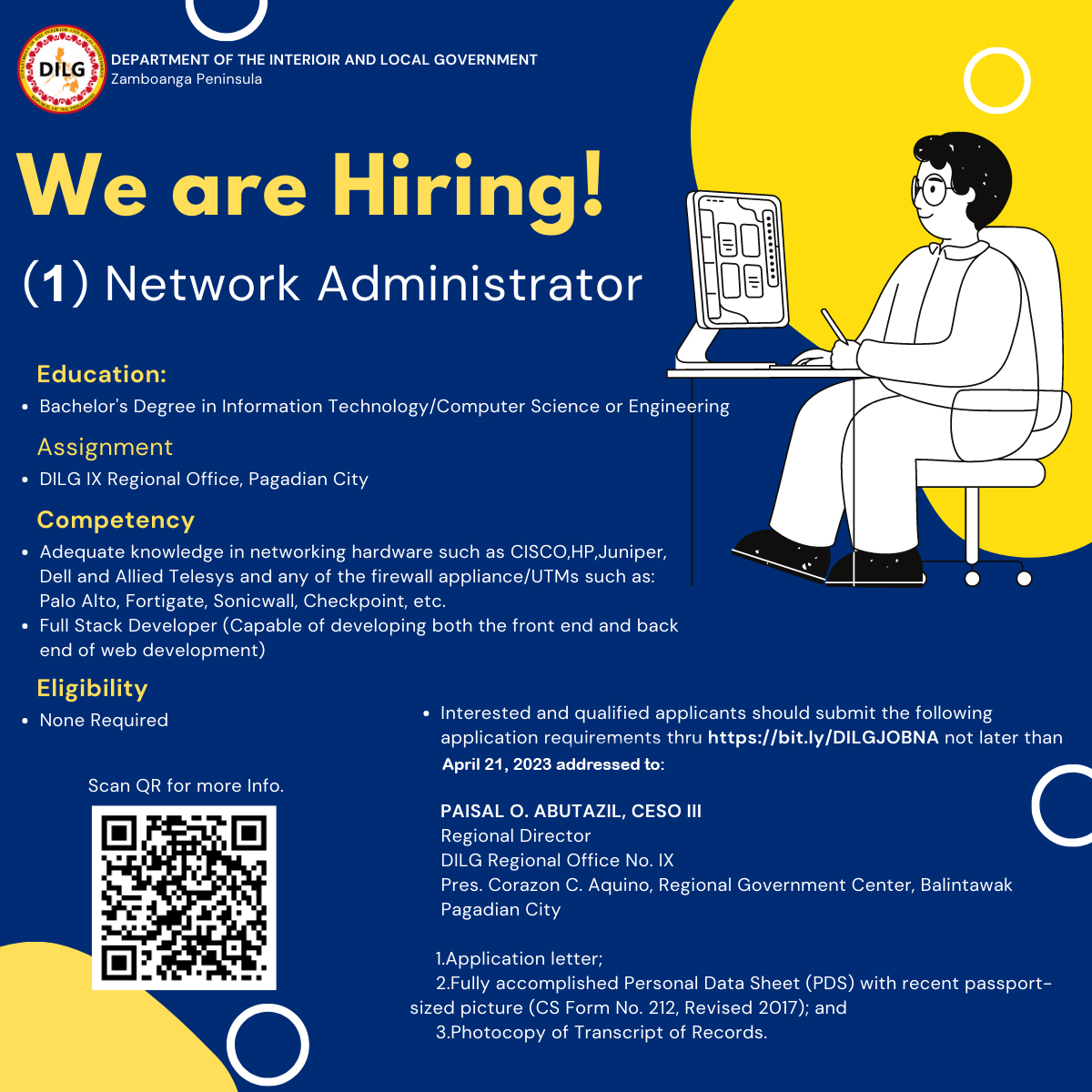 Submit application here :Link here click me.
               JOB TITLE         :      (1) NETWORK ADMINISTRATOR (COS)
Salary                 :      19,075.00
I.    MINIMUM QUALIFICATIONS:
EDUCATION:
Bachelor's Degree in Information Technology / Computer Science or Engineering.
COMPETENCIES:
1. Adequate knowledge in networking hardware such as CISCO,HP,Juniper, Dell and Allied Telesys and any of the firewall appliance/UTMs such as: Palo Alto,
Fortigate, Sonicwall, Checkpoint, etc.
2. Full Stack Developer (Capable of developing both the front end and back end of web development)
II. DUTIES AND RESPONSIBILITIES:
a.     Administer systems and servers related to LAN and WAN, VOIP, security and network equipment for the purpose of ensuring availability of
services of authorized users.
b.     Install and test server software on a variety of platforms (e.g. application software, operating system, hardware upgrades, etc.) for
the purpose of maintain DILG LAN/WAN and VoIP systems;
c.     Maintain network operations and software applications (e.g. servers (file WEB, database, proxy, etc.) operating systems, server backup,
routine maintenance programs, etc.) for the purpose of ensuing efficient operations;
d.     Troubleshoot malfunctions of network hardware and/or software applications within DILG's local and wide area networks, IP Telephony,
and security systems (e.g. servers, router/switch, network protocols, ect.) for the purpose of resolving operational issues and restoring services;
Interested and qualified applicants should submit the following application requirements thru email address r9dilg@gmail.com  not later than April 21, 2023 addressed to:
PAISAL O. ABUTAZIL, CESO III
Regional Director
DILG Regional Office No. IX
Pres. Corazon C. Aquino, Regional Government Center, Balintawak
Pagadian City
1.     Application letter;
2.     Fully accomplished Personal Data Sheet (PDS) with recent passport-sized picture (CS Form No. 212, Revised 2017); and
3.      Photocopy of Transcript of Records.