Published On: July 02, 2023 | Written By: Beatriz Faye G. Carreon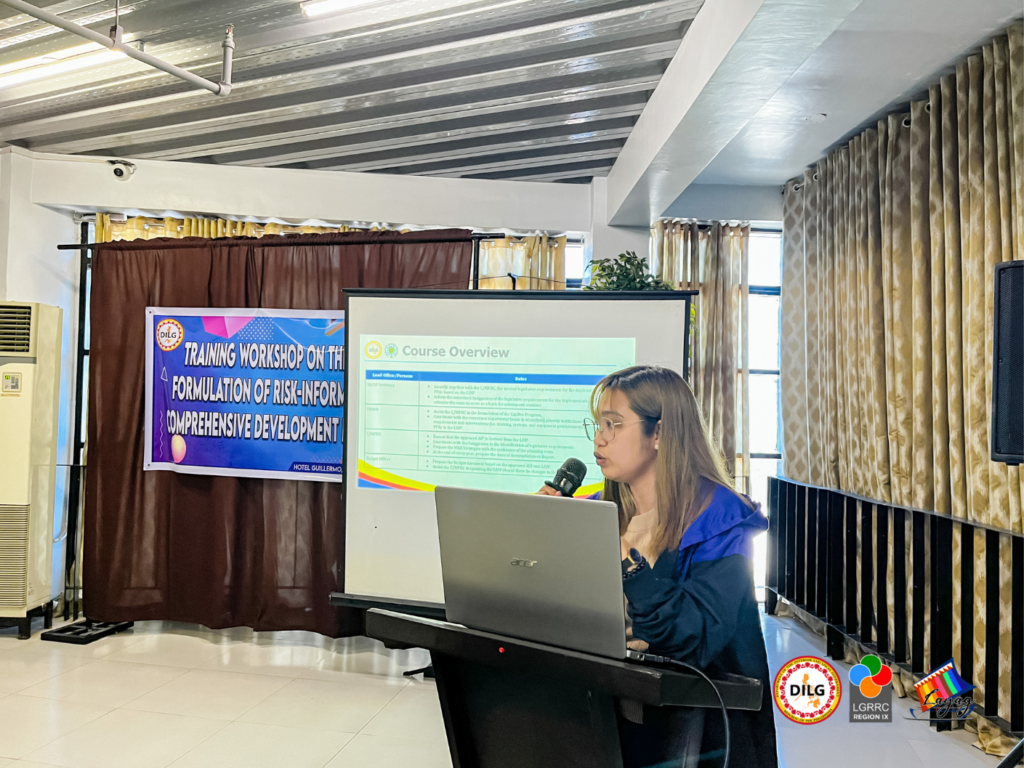 Pagadian City, Zamboanga del Sur – The Department of the Interior and Local Government IX, in partnership with LGU Pitogo, Zamboanga del Sur, organized a training-workshop focused on the creation of a Risk-Informed Comprehensive Development Plan last June 19-23, 2023. This event was designed to advance local development efforts and align them with the national vision for communities. Its primary objective was to offer technical support to the LGU Pitogo Planning Team in formulating a comprehensive and multi-sectoral development plan that considers potential risks and strengthens resilience.
The main objective of the training-workshop was to equip LGU Pitogo with the essential knowledge and resources to create a development plan that is forward-thinking, inclusive, and resilient. Through the integration of risk assessment and management strategies, the LGU can take proactive measures to mitigate potential hazards and allocate resources effectively in order to foster sustainable development.
The training-workshop assembled the LGU Pitogo Planning Team, consisting of essential officials and staff members accountable for strategic planning and development projects in the municipality. This team comprised individuals who possessed a profound comprehension of the local circumstances and the obstacles encountered by the community.
The workshop was led by a group of knowledgeable resource persons (RPs) who were well-versed in risk-informed development planning. These RPs included the esteemed SCALE UP Implementing Team, recognized for their expertise in this field, who offered valuable perspectives, shared best practices, and provided technical guidance during the workshop. Additionally, the Provincial Focal Persons, who possessed extensive knowledge of the local context, offered practical advice and shared successful experience from similar initiatives within the province.
The workshop spanned five days and encompassed a wide-ranging program that addressed multiple facets of comprehensive development planning with a focus on risk-informed approaches. The sessions delved into important subjects including evaluating risks, identifying sectors susceptible to vulnerabilities, incorporating climate change factors, promoting participatory planning, and efficiently allocating resources. By utilizing a blend of informative lectures, interactive discussions, group activities, and practical exercises, participants acquired valuable expertise and practical insights to effectively formulate a resilient and well-rounded development plan.
At the conclusion of the workshop, the LGU Pitogo Planning Team effectively formulated a comprehensive development plan that took into account the specific challenges and potential risks encountered by the municipality. The plan integrated approaches aimed at bolstering preparedness for disasters, supporting sustainable livelihoods, strengthening infrastructure resilience, and promoting community engagement. Moreover, the participants acquired a greater appreciation for the significance of integrating risk reduction strategies into development planning and acknowledged the importance of collaboration and coordination among diverse stakeholders.
The activity served as a significant milestone in empowering LGU Pitogo to advance local development in harmony with the national vision. By acquiring invaluable knowledge and skills, the LGU Pitogo Planning Team is now well-prepared to tackle the obstacles presented by potential risks and hazards. The DILG IX, in conjunction with its collaborators, remains steadfast in its dedication to assisting LGUs as they strive to construct resilient and sustainable communities that benefit the entire Filipino population.