𝐀𝐩𝐫𝐢𝐥 𝟐𝟎-𝟐𝟏, 𝟐𝟎𝟐𝟑 | Active participation of Civil Society Organizations (CSOs) in local governance is critical for the advancement of participatory governance and community development. Bearing this in mind, DILG IX in cooperation with LGU Sominot orchestrated a successful two-day capacity building workshop for CSOs in local special bodies and the establishment of the People's Council on April 20-21, 2023 at the GAD Building, Sominot, Zamboanga del Sur, with the primary objective of enhancing the abilities of CSOs in Sominot, empowering them to take an active role in local governance.
The gathering was graced by 24 representatives from diverse CSOs in Sominot, who were joined by three esteemed resource persons, namely DMO III Febie L. Marquez, Regional CSO Focal Person; CDO II Jasten Dwight B. Desierto; and LGOO II Cherry May Iway, Provincial CSO Focal Person. The experts imparted their erudition and proficiency on a variety of topics including the pivotal role of CSOs in local governance, the legal framework that governs CSOs, and the techniques involved in establishing and organizing a People's Council.
Commencing the proceedings, Hon. Johnriel B. Melo, Municipal Mayor of Sominot, Zamboanga del Sur, delivered a compelling opening address that underscored the critical role of CSOs in local governance and their valuable contributions to community development. Moreover, he expressed his profound gratitude towards LGU Sominot and DILG IX for their laudable initiative in organizing this event to enhance the capacity of CSOs within the municipality.
Undoubtedly, the creation of the People's Council was a significant moment during the event, as it was a product of the participants' collaborative efforts from different CSOs. This council functions as a dynamic mechanism that empowers CSOs to have a more official and influential role in the local governance process. As members of this council, they are obliged to actively participate in the different local special bodies and effectively provide insightful feedback and recommendations on the LGU's programs and projects.
The culminating address was delivered by Hon. Johnriel B. Melo, who conveyed his heartfelt appreciation to the attendees and experts for their enthusiastic engagement in the program. He further emphasized the indispensable role of CSOs in local governance and rallied them to persist in their zealous participation towards advancing the well-being of the community.
The initiative to conduct the capacity development program and the creation of the People's Council for CSOs in Sominot was a resounding triumph. The event provided a remarkable opportunity for CSOs to augment their expertise and abilities, while also empowering them to play a more active role in local governance. This bold move by LGU Sominot and DILG IX underscores their unwavering dedication to cultivate a culture of participatory governance and promote community development.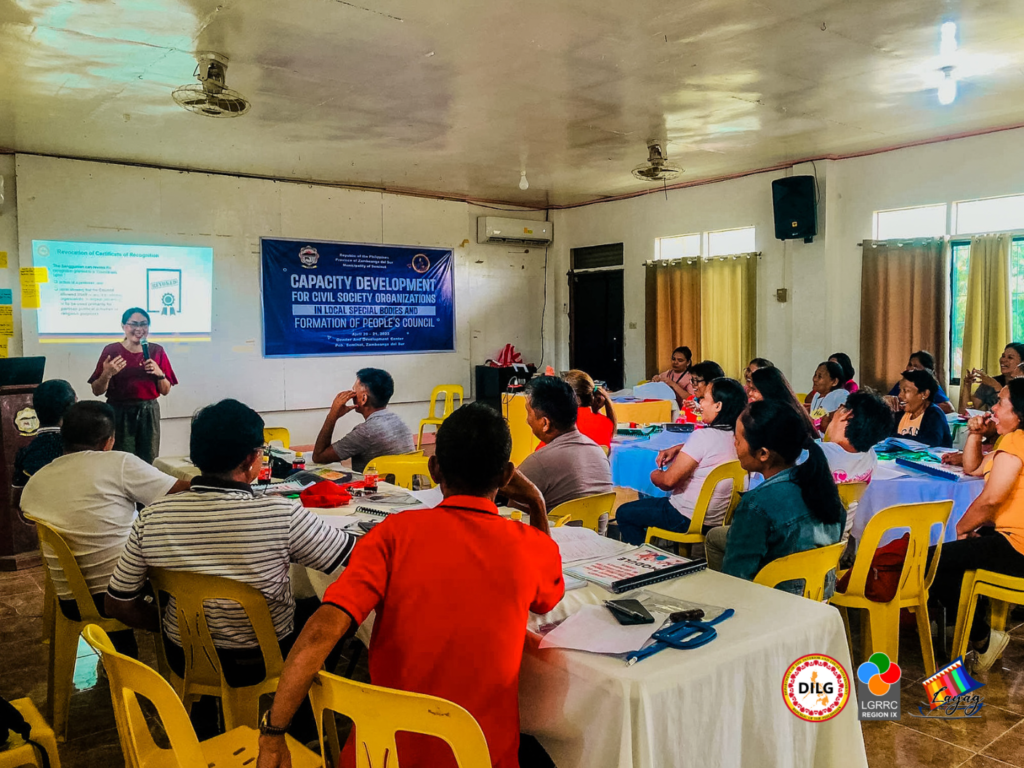 R9: LGCDD/ARML/bfgc